Press Release
March 3, 2014
OneLegacy Introduces New Multicultural Initiative
New Team to Educate About Organ, Eye and Tissue Donation in Southland's Diverse Communities
OneLegacy, the non-profit, federally designated organ, eye and tissue recovery organization serving the seven-county greater Los Angeles area, announced today a pioneering initiative to educate and inspire the Southland's diverse population to support their community as donors. Driving the effort is a new team of community outreach professionals deployed area-wide to serve Hispanic, Asian, and African American communities throughout OneLegacy's service area.
"Our multicultural community development team will build relationships, partnerships and trust with influential individuals and organizations that serve our diverse communities," said Bryan Stewart, OneLegacy's vice president of communications. "Our outreach efforts are motivated by the needs of the 8,300 patients currently awaiting transplants in our service area, 78 percent of whom are Latino, Asian/Pacific Islander, and African American. We hope to maintain the exceptional gains in support for donation we have seen over the past several years among African American families, as well as inspire more Latino and Asian individuals and families – especially first-generation immigrants who are less familiar with the process – to understand the value that donation provides to both recipients and the families of donors."
Leading the new team is Lizbeth Fiesler (Glendora), multicultural community development supervisor, who joined OneLegacy in November from sister organization The Living Legacy Foundation of Maryland, where she served as a member of the community outreach and hospital development teams. Born in Nicaragua, fluent in Spanish and conversational in French, Fiesler's responsibilities included outreach to African American and Latino communities and partnerships with hospitals and the state motor vehicle agency.
"When it comes to the decision to donate, a feeling of trust is essential," Fiesler noted. "Through our efforts we will help people understand that organ, eye and tissue donation leaves a living legacy of caring for one's community, hopefully – though not always – at the end of a long and full life. We also want our diverse communities to know that when a rare donation opportunity comes to pass, OneLegacy's nurses and specialists provide the most sensitive care to families who are facing the loss of loved ones."
Reporting to Fiesler are four multicultural community development coordinators (MCDCs) who will support community outreach and donation development initiatives within assigned regions. The MCDCs will also activate volunteer Donate Life Ambassadors, local hospitals, and local businesses in donation-related community activities, focusing initially on areas where residents donate at below-average levels.
The four MCDCs include:
Vicky Nguyen (Los Angeles) will serve as MCDC for the North region, including Kern, Ventura, Santa Barbara and northern Los Angeles counties. One of OneLegacy's most active Ambassadors, she has distinguished herself as a public speaker and representative to the Vietnamese community in Los Angeles, Orange, and Ventura counties. Raised in Newport Beach, Nguyen is a two-time liver recipient since age two. "It has been my lifelong dream to make a profound difference in people's lives, just as my donors did," said Nguyen. "I look forward to the opportunity to do just that in service of OneLegacy's life-saving mission."
Monica Groves (Burbank) will serve as MCDC for the South region, focusing on South Los Angeles County. As a community outreach coordinator for Delta Sigma Theta Sorority, Groves developed a keen understanding of the complex social fabric of African American communities in the region. Groves' background includes an M.A. degree in Media Communications and a diverse background in marketing and public relations.
"My quest to live a purpose-filled life has led me to OneLegacy," she affirmed. "I truly feel blessed to have the opportunity to educate Angelenos about the gift of donation. I look forward to helping African Americans understand how donation helps recipients and donor families alike."
Alicia Mendoza (Downey) brings considerable community work to her new role as MCDC for the Central region, where she will focus on ever-growing Latino communities. She has served as a community representative for Congressman Xavier Becerra, Supervisor at City of Commerce Department of Parks and Recreation, and oversaw Community Affairs and Business Development for Major League Soccer's Club Deportivo Chivas USA and its charitable foundation.
"After more than a decade of service to our region's vibrant Latino communities, I am honored to support the hopes of thousands of Latino patients on California's organ transplant waiting list," said Mendoza. "I look forward to enrolling leaders in our community in support of this cause."
Sandra Castro (Riverside) will serve as MCDC for the East region, comprising Riverside and San Bernardino counties. During her five-year tenure at Family Preservation Community Services, she worked with government agencies and civic organizations to provide community resources to children and families. She also honed her relationship-building skills in her work as a case manager with various community agencies.
"My passion for serving critical needs in our multicultural communities influenced me to accept this special pioneering opportunity," she related. "From my past experience, I've come to value the importance of preventative intervention, outreach, and education to improve the lives of children, individuals, and families."
With more than 200 hospitals, 10 transplant centers and a diverse population of nearly 20 million, OneLegacy is the largest organ, eye and tissue recovery organization in the world. For more information, call OneLegacy at (800) 786-4077 or visit www.onelegacy.org.
Those wishing to make the commitment to donate may register online at www.donateLIFEcalifornia.org or its Spanish-language counterpart, www.doneVIDAcalifornia.org.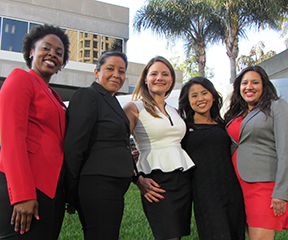 OneLegacy's Multicultural Community Development team: Monica Groves, MCDC for the South region, focusing on South Los Angeles County; Alicia Mendoza, MCDC for the Central region and its ever-growing Latino communities; supervisor Lizbeth Fiesler; Vicky Nguyen, MCDC for the expansive North region, including Kern, Ventura, Santa Barbara and northern Los Angeles counties; and Sandra Castro, MCDC for the East region, comprising Riverside and San Bernardino counties.