Press Release
August 6, 2010
Assembly Speaker John Pérez Announces Seven Million Registered Organ and Tissue Donors in California
Speaker Perez's mother died waiting for a transplant; father was a donor
The number of registered organ and tissue donors in California has reached the nation-leading seven million mark, it was announced today by California Assembly Speaker John A. Pérez (D-Los Angeles), the Donate Life California Organ & Tissue Donor Registry, and the California Department of Motor Vehicles (DMV).
The number of registered donors is especially important in the face of the disproportionate need for donated organs in California. Of the more than 107,000 patients currently listed on the National Organ Transplant Waiting List, over 20,000 (nearly 20 percent) live in the state.
"Organ donation is very personal to me. My mother, before her death, was on kidney dialysis for several years," said Pérez. "As I sat with her during treatments, I saw people of every age, every background and all walks of life trying to beat the clock and survive long enough to receive an organ transplant. To these seven million Californians who have volunteered to save lives as organ and tissue donors, thank you. You are giving hope to every one of those patients."
"It was only four years ago that DMV and Donate Life California teamed up for this effort by making donor registration available to every Californian who renews their driver license or I.D. card. Our team effort has been a great success in reaching this milestone, but there are millions more out there who still need to check "Yes!" and potentially save someone's life," added DMV Director George Valverde.
Although Donate Life California has more registered donors than any other state donor registry, when offered the opportunity to register as donors a relatively low percentage of Californians choose to do so. In 2009, only 26 percent of DMV customers applying for or renewing their drivers' licenses and ID cards checked 'Yes' on their forms to register as donors, ranking in the bottom fifth. In addition, of 26 million licensed drivers and ID holders, only 27 percent have signed up to be organ and tissue donors. In Los Angeles County, the number is even lower, with only 18 percent of county residents age 15 and older enrolled as donors.
Despite the state's lower donor registration rates, the Donate Life California Registry plays an increasingly essential role in saving and healing Californians in need of organ and tissue transplants. Since the registry was introduced in April 2005, donors who had registered prior to death have saved more than 1,000 lives through organ donation and healed more than 35,000 through cornea and tissue donation. In 2009 alone, 134 registered organ donors and 414 registered tissue donors gave the gift of life through the state's organ and tissue recovery organizations.
"When my father passed away, he had his organs donated," said Pérez. "In that painful moment, I was deeply comforted knowing that my father would be able to give others a second chance at life. That is why I encourage everyone to sign up to be a donor."
The Donate Life California Registry continues to grow rapidly, adding more than 30,000 donors each week through the DMV's driver license and ID card application and renewal process. This pace of growth is projected to continue through July 2011, when the registry completes its first five-year DMV renewal cycle.
Donate Life California is the nonprofit, state-authorized organ and tissue donor registry which records the decision to donate in a secure, confidential database that is searched by authorized organ and tissue recovery personnel at the time of an actual donation opportunity. It is administered by California's four nonprofit, federally designated organ recovery organizations: California Transplant Donor Network, Golden State Donor Services, Lifesharing and OneLegacy.
For more information, please visit www.donateLIFEcalifornia.org or in Spanish at www.doneVIDAcalifornia.org.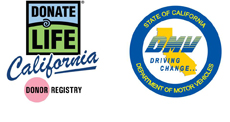 Percentage of Population Age 15+ Registered
Among California's 15 Largest Counties
| | |
| --- | --- |
| Alameda County | 26.2% |
| Contra Costa County | 28.9% |
| Fresno County | 19.7% |
| Kern County | 22.6% |
| Los Angeles County | 17.9% |
| Orange County | 24.4% |
| Riverside County | 22.5% |
| Sacramento County | 28.3% |
| San Bernardino County | 22.1% |
| San Diego County | 30.4% |
| San Francisco County | 27.7% |
| San Joaquin County | 21.4% |
| San Mateo County | 26.8% |
| Santa Clara County | 24.3% |
| Ventura County | 27.5% |
| | |